i am definitely not happy about the weekend coming to an end, it went by awfully fast. after the busy week i had i was excited for this weekend. i was supposed to go corpus this friday but that didn't seem to pan out, then orly and i decided we should go to san antonio so we could bring down all my stuff, i still haven't gotten around to all that since i moved back down in october. i miss it there! anyway, we were going to head up there saturday morning, but my mom was having a garage sale and i stopped by to make sure she wasn't going to sell anything that i wanted to keep. i was only planning on being there for about 15-20 minutes. i got there at eight in the morning and didn't end up leaving till four in the afternoon. my mom needed my help, she literally had a line down the drive way. we sold a bunch of stuff; however, there were just somethings i had to keep.after the garage sale, i was so tired! standing on my feet for about eight hours in the hot hot sun definitely took it's toll when i knocked out at seven watching shark week. it was so interesting learning about megalodon, the biggest shark in the world may be resurfacing after millions of years of being instinct was so exciting and scary, but my eye lids couldn't take it. and i didn't wake up till ten the following morning. sunday, i didn't just want to stay in since friday and saturday i caught up on sleep and rested up pretty nicely for the hectic week i know is coming up. so orly and i decided to go on a little lunch date, yay!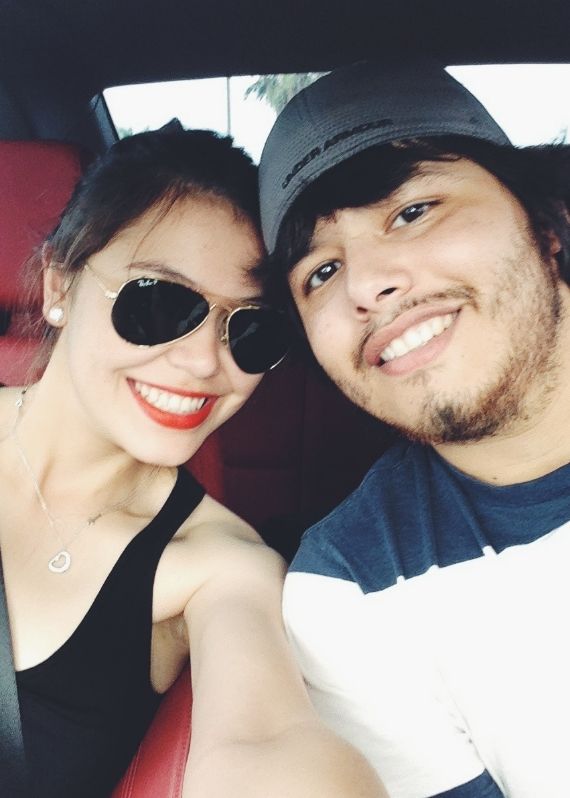 i was craving a burger for the longest time, and orly finally caved! i really wanted johnny rockets, but the one in town isn't so great. i can't wait for la next week, i am gonna go to town on that, and in-n-out, ahh--three years is just too long! anyway, so we decided on five guys, yummy small burger and those cajun fries.. yes, please. but on our way there we took a detour because the expressway was closed and we passed through pharr when orly mentioned we should go to red robin. i thought about it for awhile, the yummy juicy burger and bottomless spear fries did sound good. but because we can never make a decision ever, we played rock-paper-scissors..yes, we resort to this often. if i won, we would go to five guys and if orly won we would go to red robins. of course, i lost! but i do not regret it, whatsoever!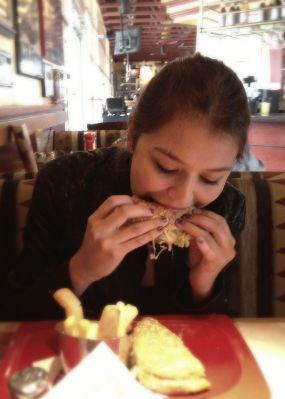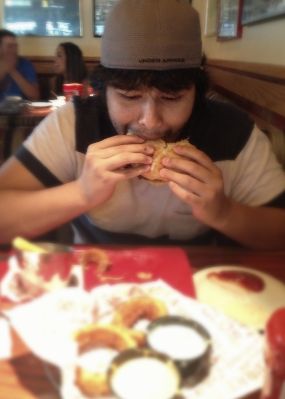 messy burgers are the best burgers, it was great! and the fries, yum. we also order onion rings, they were so crunchy and delicious. my whole meal was just amazing, i'm glad orly won! after our little lunch date, we hung out with orlys old roommates, played indoor corn hole, a different concept than what we're used to but fun nonetheless. we watched movies and drank some of orlys delicious micheladas, i didn't have one myself just drank off of orlys! i can't really have too much without getting too full. but they're still great and it was awesome (singing voice) hanging out with the guys again.
in other news, i'm excited for this coming week. things at work should be changing and i'm excited for that! also, i'm most excited for next saturday or sunday. we haven't decided when we're taking off to los angeles, since we're driving up, we have no set schedule, all i know is that we have to be back by august 25th and the sooner we go the longer we get to stay there! we have a wedding on friday and we were planning on leaving saturday morning around four in the morning but we still haven't decided on that yet. i have a few things to take care before i leave on my mini-vacation, and it's going to be hard to squeeze everything in when working pretty much all day--everyday this week. i say mini because i will only be gone a week, and it's obviously not enough. although, it is a much needed week off.. so i'll take whatever i can get!
to do list: 1. catch up on paperwork 2. get a haircut 3. find shoes and dress for wedding on friday 4. get mani/pedi and eyebrows waxed 5. return a few things 6. grab a few things at petsmart for pups 7. buy jeans, i never wear them but i figure i need a pair! 8. pack! pack! pack!
la next week should be fun, i used to go every summer since i was three, and now its been three years since i've last visited, way too long! i'm excited to see my family, and feel the perfect year-round weather on my skin, visit the beaches and my favorite shops! oh, the shopping! i can't wait to go down melrose and visit my favorite thrift shops, shop in studio city at my favorite clothing stores, and walk down to downtown burbank and see what new pop ups are there, my sister says they got rid of the wasteland, there. sad, i was excited to visit all three stores, i'm hoping the other two are still open in studio city and in hollywood. thrift stores are just way better up there. i've been saving for just that. can't wait! well, i'm off to bed! hope y'all have a good week, i know monday's suck but then tuesday comes along and it makes the week a little better! :)